LEADERSHIP
Mr.Mehroof I Manalody- The founder and Chairman and Managing Director of G-TEC EDUCATION is a Graduate in Economics from Madras University having PG Diploma in Computers. Does have a very affirmative attitude with a wide insight into the future that is capable of managing all the aspects of education & training centers. He started his career in imparting computer Education by establishing computer Institutions throughout Malabar at first and extended to other Districts in Kerala and across all other states in India and abroad gradually with the maximum acceleration.
His idea of Quality Education to all took birth as G-TEC in 2001 and till date millions of students attained employability skill for the past decades through 500+ quality learning centres globally. G-TEC trains around 1,50,000 every year and this kept increasing with our quality service and reach. G-TEC EDUCATION took the responsibilities in IT and other soft skill Programs blended with University courses to achieve the finishing school concept through reinvention of innovative programs to enable the youth for their career. Many IT excellence awards from State / Central Governments and International excellence from IAB (U.K) Through U.K. Parliament for continuously many times being the Best centre of IAB are the golden feathers of G-TEC under the leadership of Mr. Mehroof Manalody.
His initiatives and innovations attracted national and International publicity through many national projects of Governments and gained him numerous awards including the recognition of "Brand Icon 2016" among Top 10 entrepreneurs by Time of India and Economic Times.

CMD's Message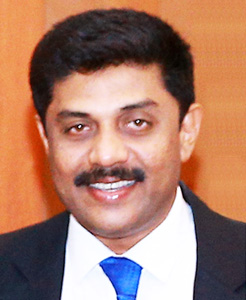 Education is the only path for self-fulfillment and self-realization. It is the only path to freedom and equality. We envision a world with peace and prosperity through educated minds with passion for enhancement of self and society
When the idea of imparting a medium of providing, Quality Education Worlwide, G-TEC took its birth in 2001 adding the value of "Quality Education to All" irrespective of their social, economic and cultural factor. Our efforts was always into this motto while making them internationally competent with Globally recognized certification of vendors itself within common man's budge. Tuning ourselves as an interface from Education to Employment with industry based knowledge and that too particularly to the common people and those in disadvantaged segments of society has helped us to pace up to our objective of creating a pool of skilled human recourse in every nation we operate.
G-TEC now with professional studies provide approved university courses and offering hundreds variety courses in IT along with International certificates. G-TEC is committed to every student's growth by the slogan of building professionals globally with industry based knowledge for their higher dreams and careers at affordable cost. G-TEC Join hands with Government bodies for Government certificates for the needy, University and other renowned international bodies as value added service to their career building and every endeavour to achieve the objectives of the company there by contributing to our vision for our Society in whole.
We at G-TEC have been continuously exploring new avenues of International & domestic partnerships. Our assertive brand building and marketing, with a thrust on expansion globally have paved the way for our rapid expansion.
G-TEC focuses on quality teaching, learning and training to the productivity globally in accordance with the requirements of the industry, for which necessary research and preparation of courses are ensured to make industry-ready professionals.
G-TEC is closely watching the interaction of industry and academia to provide the need and while concentrating to contribute industry needed professionals in a very flexible study structure, G-TEC gives sufficient rooms to ensure the corporate social responsibilities too.
It is my pleasure and I am proud of the steps that we have taken for the growth of this establishment to twine around the world. The teams that built the strength and the relationships those formed with inexplicable dedication and untiring efforts remains our greatest assets. I wish all the success to those gets across G-TEC and we remain committed to you and your dreams.